AAOC Trade Show & Conference
Thursday, May 5, 2022 | 9 a.m. - 3 p.m. | OC Fair & Event Center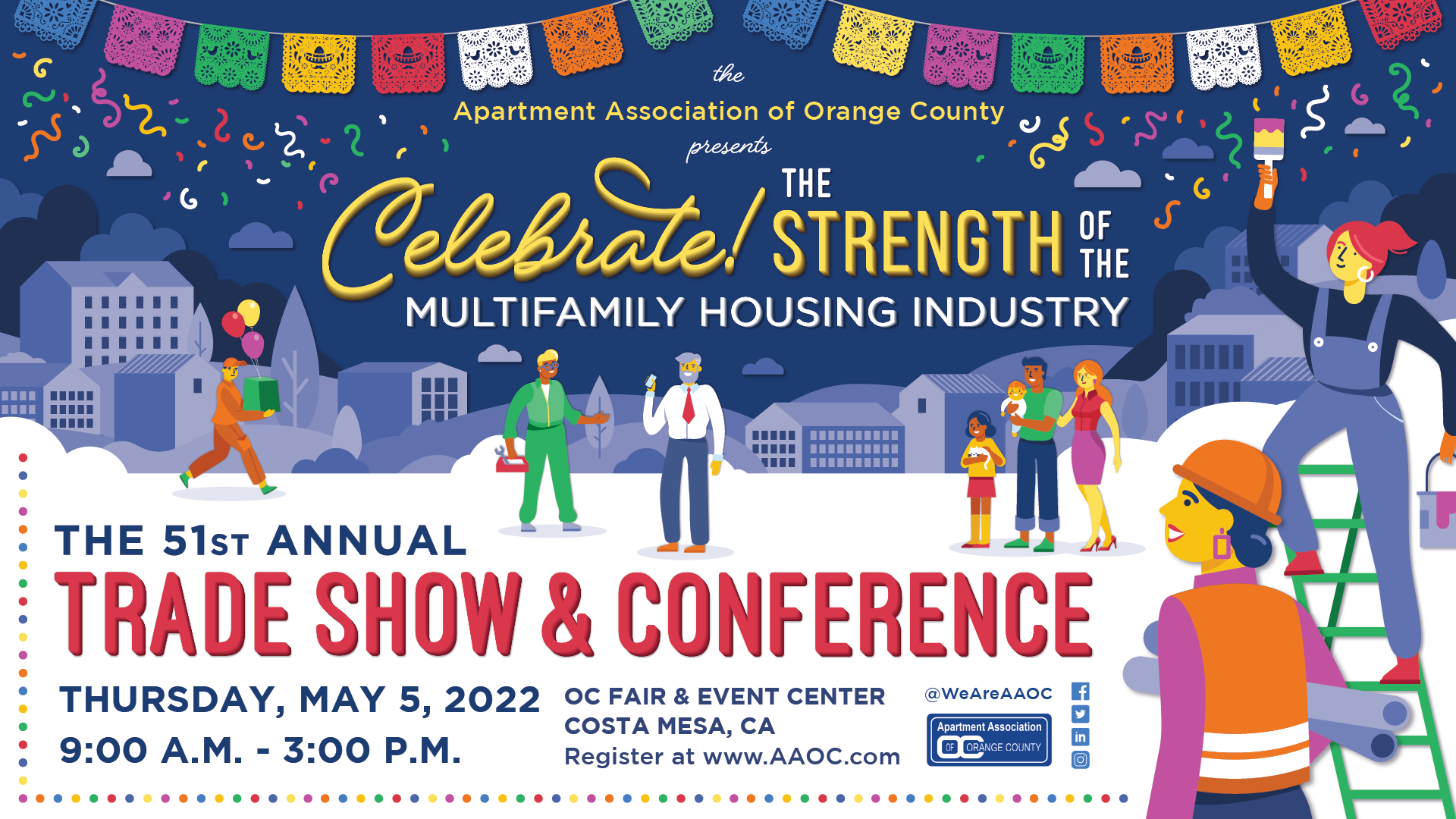 Maintain your competitive edge as a rental housing provider. Attend the APARTMENT ASSOCIATION OF ORANGE COUNTY's 51st Annual Trade Show & Conference on THURSDAY, MAY 5, 2022, from 9 A.M. to 3 P.M, at the OC Fair & Event Center.
Meet with more than 100 industry suppliers and learn about the products and services they can provide to you and your rental community. Attend FREE educational seminars and maintenance demonstrations. Network with colleagues and more.
TRADE SHOW ATTENDEES - ONLINE REGISTRATION HAS CLOSED
(Register at Trade Show Doors)
INDUSTRY EXHIBITORS... Click
HERE
to Sign Up for a Booth.
(PSC members should log into their AAOC account first)
EVENT DETAILS
EVENT:
AAOC Trade Show & Conference
Thursday, May 5, 2022
9 a.m. - 3 p.m.
LOCATION:
OC Fair & Event Center
Costa Mesa Building (#10)
88 Fair Drive, Costa Mesa, CA 92626
PARKING:
$10 (cash/card)
Entrance Gate #1 (Fair Drive)
Parking Lot A
---
PLATINUM SPONSORS


---
| | | | |
| --- | --- | --- | --- |
| GOLD SPONSOR | GOLD SPONSOR | GOLD SPONSOR | GOLD SPONSOR |
| | | |
| --- | --- | --- |
| WI-FI SPONSOR | LANYARD SPONSOR | COFFEE CART SPONSOR |
---
EDUCATION SEMINARS
9:15 - 10:00 a.m.
The 5 Keys to Dealing wIth Difficult People
Speaker: Rommel Anacan, The Relationship Difference

Have you ever had days when it feels like you're running into EVERY difficult person in the world? You know that sinking feeling you get when you know that you need to speak to someone that you don't want to? Or the frustration you experience when you have a conversation with a difficult person that starts out fine, but quickly escalates and nothing is solved?

The reason most people experience issues with difficult people is because they aren't following strategies proven to create success. That's why you need to attend "The 5 Keys to Dealing WIth Difficult People" workshop!

In this practical session you'll discover:

The #1 way to quickly turn someone who is raging mad to a raving fan
How to easily establish connection with a difficult person (even when it's awkward or uncomfortable)
Why so many interactions with difficult people end up in a bad place
The 5-step strategy that you can apply immediately to deal with difficult people (without making things worse!)


You'll walk away from this session feeling clear, confident and ready to interact with any difficult person that comes your way.

SPONSORED BY




---
10:45 - 11:30 a.m.
2022 Legal Update
Speaker: Tyler Greer, Esq., Duringer Law Group, PLC.

Navigating the Continuously Choppy Legal Waters of COVID-19
Emerging legal trends & threats
Fair housing issues
Strategies and best management practices to protect yourself

SPONSORED BY

---
12:30 - 1:15 p.m.
Online Reputation: The Surprising Cost of a Bad Review and How to Overcome It
Speaker: Laura Lemansky, Regional Sales Director, RentPath

Improving your rental property's "star rating" by only one (1) star has a surprisingly large impact on your revenue. This session will be dedicated to understanding how property reviews impact your community's bottom line, and how you can easily improve your online reputation with a few simple steps.

SPONSORED BY




---
1:45 - 2:30 p.m.
Winning Property Management Strategies
Marco Vartanian, President & CEO, Sullivan Property Management
Paul Julian, Principal, Advanced Real Estate Services, Inc.



Emerging trends and threats to property management
Strategies to increase property cash flow
How technology is changing the game of apartment operations
Considering a change from self-management to a property management company?

SPONSORED BY

---
MAINTENANCE DEMONSTRATION ZONE
Sponsored by Optimum Seismic
10:00 a.m. - General Maintenance
Instructor: Buffalo Maintenance, Inc.

11:00 a.m. - Water Heaters 101
Instructor: California Rooter & Plumbing

1:00 p.m. - DIY Plumbing Tips
Instructor: California Rooter & Plumbing

2:00 p.m. - Roofing Maintenance Strategies
Instructor: McCarthy Roofing

SPONSORED BY


TRADE SHOW FIESTA
Beer Garden & Live Music
3 -5 p.m. @ The Courtyard (Behind the seminar room)
All trade show attendees and exhibitors are invited to join us for some tasty appetizers, cold libations, live music, and a final round of networking for the day. Plus, the afternoon $500 Bingo Winner will be announced at 3:15 p.m., so come on over from the exhibition hall after the show and enjoy the fiesta!


| | | |
| --- | --- | --- |
| FIESTA SPONSOR | ENTERTAINMENT SPONSOR | BAR SPONSOR |
---
FOOD SPONSORS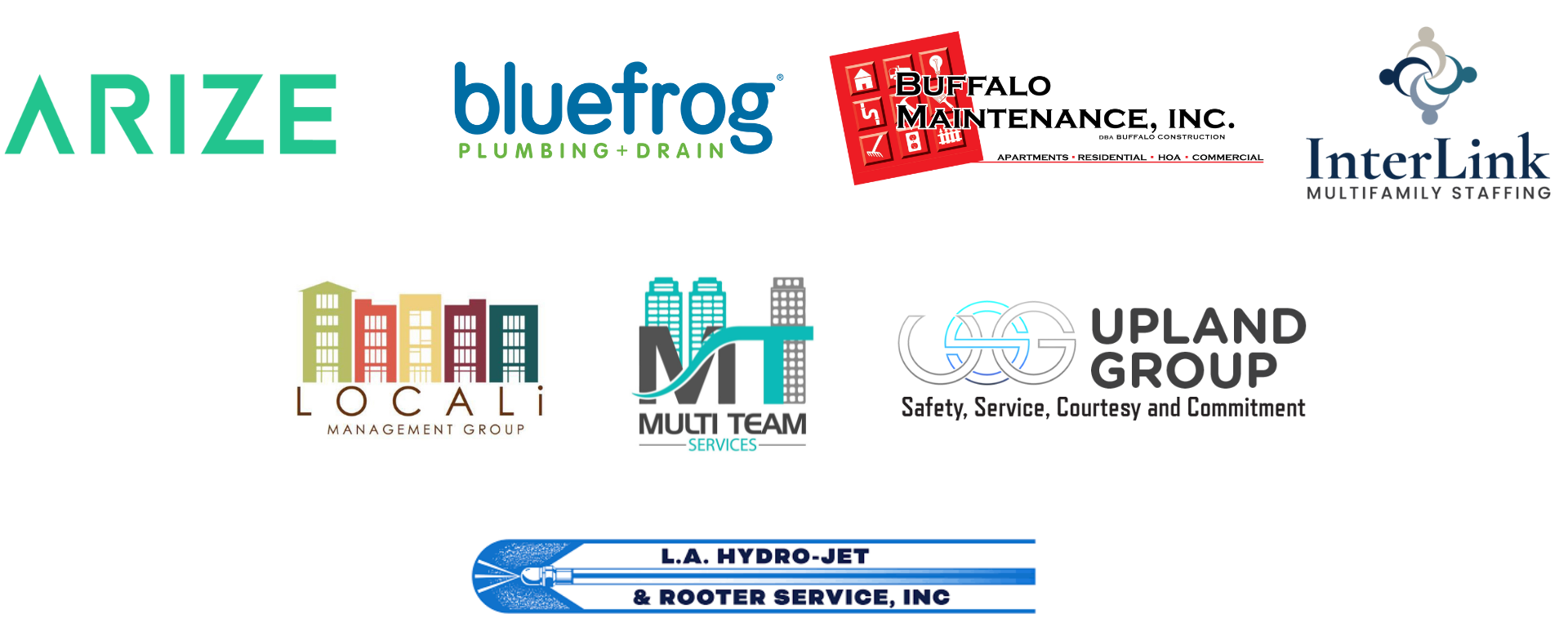 ---
ADDITIONAL INFORMATION
CASH PRIZES & EXHIBITOR GIVEAWAYS
AAOC will award two (2) $500 cash prizes the day of the show. Winners must be present to claim their prize when announced. Exhibitor drawings and prize giveaways will also happen throughout the day. Bring your business cards with you.


FOOD & REFRESHMENTS
Refreshments will be available for purchase inside the exhibition hall during the show. Gourmet food trucks will also be located outside the exhibition hall, with your favorite coffee drinks available beginning at 8:30 a.m. and lunches by Tres Campas Mexican Grill and Burning Buns available from 11 a.m. to 2 p.m.


INTERESTED IN EXHIBITING?
If you own or represent a business that services the rental-housing industry, and you are interested in exhibiting at the AAOC Trade Show & conference, click here for more information.


HEALTH GUIDELINES
Show attendees, exhibitors, and other participants are subject to all health and safety requirements at the time of the event. AAOC will comply with local and state health and safety guidelines and policies, as well as those established by the OC Fair & Event Center.